For the 50th Anniversary celebrations of the Lothian Car Club and Doune Hill Climb recently, Hog Roast Dunblane was proud to provide the food, including a delicious and stunning-looking hog roast centrepiece which we cooked and carved up to make pigs in buns. Lothian Car Club was established in 1948 in order to promote motorsport and motorcycle racing and the Speed Hillclimb Course at Doune came about between 1967 and 1968. It's today recognised as a premier British venue for motorsport, so to celebrate the past fifty years of Doune Hill Climb, our hog roast was booked in and we looked forward to the event.
In addition to our food, the marquee celebrations on the day would include live music, with dancing until late. We were asked to cook for 200 guests and put together fresh mixed salads and coleslaw and there would be a vegetarian option as well as desserts provided. Plus the club would be providing limited amounts of free wine and beer while stocks lasted, too, to be included in the £10 admission that featured our scrumptious fare and the music, so it was amazing value for the guests.
To be ready for our serve time of 7pm, our Hog Roast Dunblane team needed to be on-site a few hours before, so as to prepare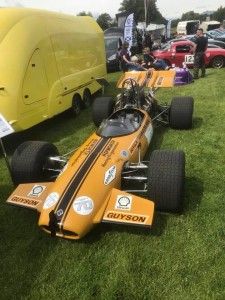 the meat for its roasting and then watch over it as it sizzled away. When we roast a hog at your venue, we score the meat all over, add water and then smother it in lots of salt, as this produces that gorgeous, crispy crackling of ours that everyone raves about. After roasting for hours, the meat needs to rest for a short while before we carve off the crackling into trays, slice away pieces of meat to fill more trays, and then add bits of both to fresh, floury bread buns. Top with our homemade duo of sage and onion stuffing and apple sauce and there you have it – pigs in buns done Hog Roast Dunblane style.
By 7pm, we were ready for the queues to form and to satisfy the hunger of 200 guests with our fabulous food.