Recently, the Hog Roast Dumbarton team were hired by Amanda for a wedding service. The wedding party was being hosted at Blairbeich in Gartocharn, West Dunbartonshire. The Hog Roast team covered the whole day of catering for the couple including the daytime service after the wedding ceremony and the buffet for the evening party. The team brought along their own waiting staff to deliver the food to the guests as well as a selection of chefs and assistants.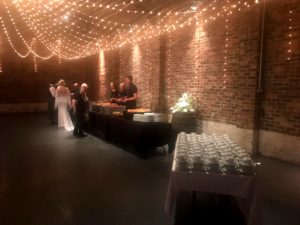 The Hog Roast Dumbarton team served a selection of canapes for the guests including luxury bites such as prawn and smoked salmon on a bed of rocket with melba toast and guacamole. Another well received canape included roast beef served in Yorkshire puddings with a horseraddish sauce and handmade gourmet sausages served on skewers with a whole grain mustard dip. The selection of canapes was followed by a professional table service of a three course meal. The day time wedding menu was served to 110 people so it was vital that the service was efficient so that all of the guests could receive their food in a small time frame and enjoy eating together. The service featured a slow roasted meat, which was professionally carved by the Hog Roast Dumbarton team's Catering Manager, Steve, with traditional trimmings such as seasonal vegetables and potatoes. A vegetarian option was also served. The Hog Roast Dunbarton team also followed the service with tea, coffee and mints.
The evening buffet consisted of hot bacon and sausage barms which were served with a selection of sauces and jacket potato wedges on disposable crockery. In addition, the team also dressed a selection of desert plates with ripe berries, a coulis of summer fruits and fresh cream to serve with the wedding cake. The evening buffet was large enough for 80 people. The team also served vegetable and halloumi skewers as an alternative to the meat sandwiches. The guests had a great time and all appeared to really enjoy the food. The newly married couple were really pleased with the hard work the team had put in and thanked them for helping to make their wedding special.