Recently, the Hog Roast St Andrews team were hired by Rory to cater for Mr and Mrs Shannon's wedding on the 1st June. The couple hired a venue that the team were familiar with team as they had catered there before. The venue was Kinkel Byre in St Andrews looked beautiful for the event and was decorated in fairy lights which lit up the dance floor as the sunset. The team arrived several hours before the buffet serve time to ensure that everything was cooked in time. They also prepared, seasoned and cooked all of the food on site so that the buffet tasted really fresh.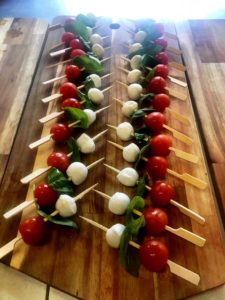 Rory selected Wedding Menu Three for the Hog Roast St Andrews team to serve to the couple's guests. The food was served as a buffet after a selection of canapes was served to the guests. The team served a whole roasted hog to the wedding guests which was complimented with apple sauce and homemade stuffing and was also served alongside bread rolls and a variety of sauces. The team also served potato, salad and vegetable sides. The food was served on served on porcelain crockery to give the buffet a more luxurious feel. The team also served a vegetarian option of grilled chunky vegetable and halloumi wraps which were served with pitta breads and a Tzatziki dip. After the buffet service, the team also served tea and coffee in china to the guests.
The Hog Roast St Andrews team served their buffet to 145 people so it was important that they were efficient while serving the buffet. The team also served bottles of wines to the guest's table as well as condiments on the tables. The team also helped to arrange the venue by moving chairs from the ceremony room to the function room. The team was led by the team's Catering Manager, Steven, who was really proud of the service his team delivered. He ensured that the cooking ran smoothly so that they could deliver a faultless service and he was really pleased that his team helped to create the couple's dream wedding.