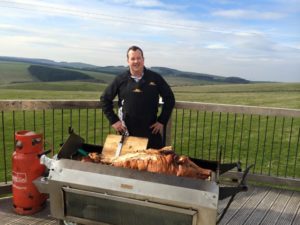 What's lovely about Hog Roast St Andrews is that it is a complete family-run business! The wonderfully experienced Steve lives on a farm based in East Fife, Scotland, his father was a first-generation farmer buying Loanfoot farm in 1983 and still plays a massive role in the business today. Steve has a large knowledge of raising and preparing pigs as he rears and breeds his own rare breed free range pigs on his farm! So, Steve really is the pig man! Steve has been with Hog Roast St Andrews for seven years and a further few years before that was running hog roast events from his farm, taking his rare breed free range pigs to local farmers markets as well. 
Steve has done many events over the years, let's see what memorable experiences he has:
Where has been your favourite venues so far?
Steve has had the pleasure of catering at rustic venues because of his location, some of his favourite venues being the enchanting barn at Inchyra outside Perth, it is such a magical fairy-tale destination, perfect for weddings and has the most beautiful backdrop for photos with countryside surrounding it. Another is the stables at Kirknewton nested in the Kirknewton estate is a picturesque location for weddings. Both sites Steve believes to be beautiful and recommends to anyone getting married around those areas. 
Other venues Steve likes to cater at is Byre and the Cow Shed near St.Andrews as they are both nice and local! 
Have you met or served anyone famous or relatively famous?
Most of the cast from the Scottish detective show Taggart, including Blyth Duff who booked Steve's services! This event took place on the Isle of Bute, it was a fantastic event to cater at. 
Steve has also catered at an event where Greg Hemphill was a guest from the TV sitcom Still Game. 
If you were a customer, which menu would you choose?
Steve would choose a full wedding menu because he would then be able to have everything! From delicious canapés to the main where he would have the choice of two succulent and tender meats and finish with decadent and luxurious desserts! He would have the whole hog of course with roast chicken and roast potatoes that are ever so crispy on the outside and nice and fluffy on the inside, and not forgetting the Yorkshire puddings! This menu really excites Steve because it involves so much flavourful and tasty food!
Steve claims that there has been so many great events and venues he's catered at over the years, this job has taken him all over Scotland, seeing the wonders that the country has to offer! He has seen some amazing places and met some great people. Hopefully you'll meet Steve soon!