VIP events are another level of luxury within the corporate world, and they can range from holidays to tasty meals. The events can be used as an incentive to increase motivation within your team, or to reward staff for their hard work within the company. Whatever style of catering you are planning to host, Hog Roast Dalry have a menu that is ideal for you!
A local tech sales business based in Scotland recently contacted Hog Roast Dalry to arrange catering for an upcoming VIP event. The event was being hosted for the top salespeople of 2021 as a reward for their hard work and dedication to the business. These select few team members got to enjoy a delicious formal meal served by Hog Roast Dalry, as well as an afternoon of entertainment and two extra paid days off! Our catering manager Steve was hired to provide a formal dining package for the event, with three courses of food for 30 guests to enjoy.
Our formal dining package begins with canapés served as the guests arrived. The guests have a choice of five different dishes, with options ranging from mini pizzas and mini fish and chips to gourmet roasted duck breast. Canapés set a formal tone for the evening and introduce the guests to our style of catering.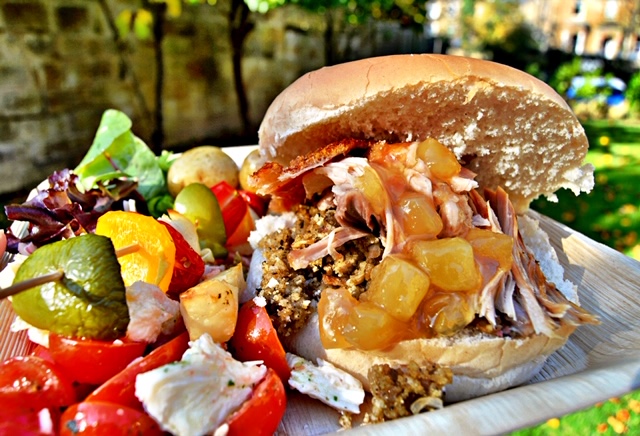 The main course consists of a delicious main course of slow-roasted pork with a selection of delicious side dishes. The Hog Roast Dalry team serve slices of succulent pork in fresh bread rolls and wraps, as well as sage and onion stuffing, homemade applesauce, fresh chips, and seasonal vegetables. This creates a tasty and nutritious main course with something for everyone to enjoy.
For the dessert, the guests can enjoy a selection of gourmet Hog Roast Dalry desserts. Some tasty dishes include profiteroles, sticky toffee pudding, and homemade cheesecake.
Are you in need of formal dining for an upcoming event? Hog Roast Dalry can cater formally for private or corporate events, including sit-down meals. To book in today, simply let us know your party size, date, and location and we can do the rest.