When we're not busy juggling weddings, birthdays, corporate functions and garden parties, Hog Roast Stonehaven likes to get out into the community, where we can treat passers-by to the glorious scent (and taste!) of our spit-cooked pigs. And last week, that's exactly what we did.
After receiving word that a food show was scheduled to go ahead in the capital, Hog Roast Stonehaven's catering manager, Steve, started making preparations for the event, which had gained mass interest from local punters and small businesses alike. All of us here saw this food market as being a fantastic opportunity to get back into the routine of cooking for a large group of people after a year and a half of having minimised bookings. And we also hoped that it would spark the interest of potential customers for future events.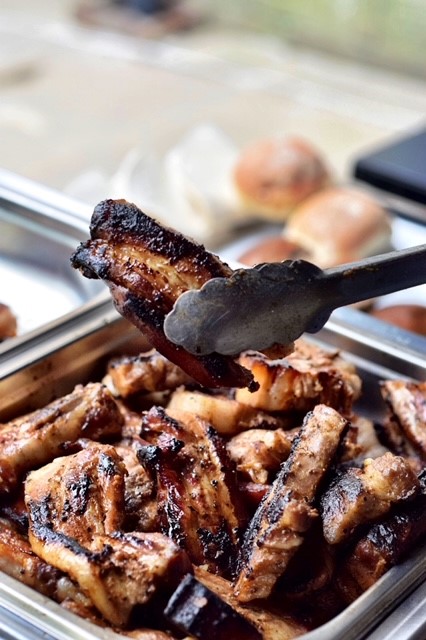 With that, Steve had decided to go all out and impress the attendees with a stripped-back version of our Southern Slow Roast Menu, which brings together a variety of beautifully seasoned meats that were each inspired by flavours from America's Deep South. But instead of offering the full selection of salad, macaroni and potato sides that are usually included with this feast, though, the team decided to keep things more simple by choosing to limit the extras to a mix of sweet potato and traditional fries and corn cobbettes.
Knowing that even with the downsized menu, it would still take them several hours to prepare the trio of meats (BBQ pork butt, fall off the bone Louisiana sticky pork ribs and the Creole pulled quarter of spiced lamb), Steve and the Hog Roast Stonehaven catering crew made sure to arrive on-site with plenty of time to spare before people started showing up.
The preparation and cooking process ran smoothly, and the welcome warmth from the sun helped the meat cook a lot faster than usual, giving the team extra time to focus on the presentation of the dishes – which, combined with the luscious food fragrances, quickly drew the punters in.
The queue for Hog Roast Stonehaven was busy throughout the entire afternoon, and many of the guests were so impressed with the quality of our foods that they pocketed a few business cards before they left.