Here at Hog Roast St Andrews we certainly know what we are good at. That is providing exceptional, slow roasted food for any and all events up and down the country! Whilst we are able to be fully flexible in our event catering one of our specialities is wedding catering not to mention one of our favourite types of event too.
When you hire Hog Roast St Andrews to cater at your wedding you get so much more than just a half-hearted buffet and unhelpful staff as is unfortunately the case with many wedding caterers these days. From the moment you enquire our friendly Hog Roast St Andrews team will be on hand to guide you through menu creation right through to putting you at ease on the day by providing outstanding service and of course fantastic food! Our professional chefs are able to week with you to create bespoke wedding menus that fulfil all your needs and are able to cater to any and all dietary requirements – just ask!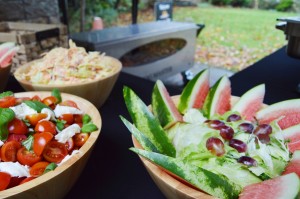 Whether you are wanting the more traditional wedding style catering that includes a three-course meal, canapés and drinks survive or a more laid-back approach with just simple yet exquisite hog roast rolls- Hog Roast St Andrews can do it all! What's more is that when you book with Hog Roast St Andrews, due to our many years in the catering business, we have built a rapport and relationship with event planners, cake makers and even jewellers so we are always able to offer advice and point you in the right direction for other aspects of your day too!
Hog Roast St Andrews really care about the experience of all your guests on the day and will endeavour to ensure everyone can find something to their tastes and that all are more than satisfied with the food they receive. With us we like to ensure the wedding party has nothing extra to worry about with all the stress that comes with weddings so we are able to be completely self-sufficient on the day and it is in our policy to always clean up and pack away any leftovers after the event, so you can just keep on enjoying the day!
So why wait? Start planning your perfect wedding with Hog Roast St Andrews today!