If you are in need of marvellous food, excellent service and a day to remember, Hog Roast Perth is for you. With a large selection of foods, including our speciality hog roasts, sides and condiments, there is something to suit anyone and everyone. Hog Roast Perth is able to cater for any event, including weddings, private parties, even cooperate and Christmas events, providing quality year-round services for all.
In this most recent case, Hog Roast Perth provided catering for a company Christmas party, filled with over 80 staff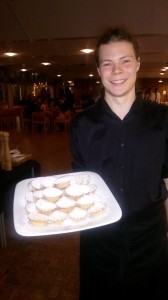 members. After a tiresome working week, each member of the staff team was more than ready for some rest, relaxation, and of course, some wonderful Christmas catering. With a large group of people to cater for, we made sure there was a sufficient selection of choices, including a moist and tender turkey (you'll never have a dry turkey with us); but, if you prefer to stay away from our selection of meats, we provide a great range of vegetarian and vegan options, as well as preparing a choice of food for those with special dietary requirements. Not too worry, as this can all be arranged prior to the date of your event. We will do whatever we can to ensure all of our customers are catered for, left happy, satisfied and always wanting more.
On the day, in order to prepare for the eager staff members, we made sure to arrive in good time, allowing an easy and successful prep from our always enthusiastic team, who are more than happy to create a spectacular service and atmosphere for all, on all occasions. Our festive food is something special and perfect for the build-up to Christmas Day; we encourage everyone to try it out at least once for their own Christmas function. But, if you do decide to save your Christmas dinner for the 25th, then you can select any of our other menus for the occasion. We will give you a wonderful catering service, along with a vibrant and friendly atmosphere, provided by our team, regardless of what menu you request. But, be sure to get your bookings in, in good time, as we are always very busy around this time of year, and we'd hate for you to miss out.