It's a known fact to some that one of the things that goes well with a motorbike rally is a perfect pork sandwich. This was realised recently by our new customers at the local rally. To them hog roasting is as much of a time-honoured tradition as loud engines and two wheels, with this they saw the perfect opportunity for their recent white tail rally. They used a big open field with enough space to fit loads of bikes, a stage and an open bar ran by their own people. it was set to be a beautiful, warm and dry evening all it needed was a finishing touch…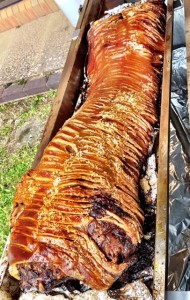 The perfect Hog roast and an amazing staff to run it. After plenty of set-up of tables, a gazebo and all the food prepared to perfection they were ready for the loud arrival of motorcyclists young and old. Hog Roast Oban was perfect for the rally's needs, providing a wide collection of service options and not only that but offering not only pork but also lamb. With the meats, crackling, buns, wraps and more vegetarian options like Mushroom and Halloumi Tartlets all under the gazebo they kicked off the evening.
Hog Roast Oban served hungry bikers from near and far on a glorious Saturday evening. The smell of succulent pork and luscious lamb filled the air (as well as the sound of roaring engines) and it all went down a treat. The MC had enough beer and whiskey on hand to put every pub in the city to shame and live music from their very own Jameson Colter! They had become so blasé to their events of the past but now have found what they described as the missing piece to the perfect rally.
With bikes as far as the eye can see and a rustic look due to the strings of lights from every tree, a huge bonfire, whiskey barrels and the MC's banners flying left right and centre it truly made for an amazing evening with a lot of fond memories.