Hog Roast Dingwall were delighted when we were approached by a client to cater for around 80 people at a private party.  We have a wide variety of menus to choose from for this type of event and to suit every clients' requirements and in this case, the client wanted us to serve our Southern Slow Roast Menu.  This menu is an excellent choice which doesn't limit your enjoyment in any way and has a variety of slow roasted meats served in a wide selection of different rolls or enjoy with salads and new potatoes.  The client tailored the menu further requesting that we serve; BBQ Pork Butt, Beef Brisket, Sticky Pork Ribs, Crunchy Coleslaw, Corn Cobettes, a selection of Green Leaf salad and Sweet Potato Wedges.  As a vegetarian option, Hog Roast Dingwall were also asked to include our legendary veggie skewers and for the kids that would be there, we suggested that our Mac 'n' Cheese and sausages may be a good option, to which the client immediately agreed; we knew straight away that the client knew their stuff and that this was going to be a fantastic party.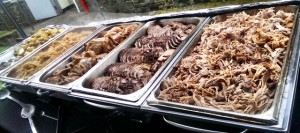 Hog Roast Dingwall specialises in this type of event, alongside corporate and wedding functions, and we know that planning and preparation is the key to success.  With this in mind, we liaised very closely with the client to determine if there were any special food requests or requirements and to understand how formal the event would be.  Whilst the event was quite informal, the client indicated that they would like the food served on China plates rather than disposable ones; naturally we incorporated this into our service.  Whilst we can cater for any specific tastes or dietary requirements including vegetarian, vegan, Halal and any others that we are aware of, there was no special requirements here.
On the day of the party, we arrived at the event well in time to set up discreetly and with instruction that we would need to serve at around 6pm; they had already got a whiff of the delicious aromas of the food that we were preparing and, needless to say, the diners were excited and delighted at the food we had to offer with very complimentary feedback on the quality of the food and professional service that Hog Roast Dingwall delivered.