Hog Roast Monikie's latest clients were a very special couple. The happy couple, Shelby and Harrison, were absolutely determined to give their guests at their wedding reception a delicious buffet.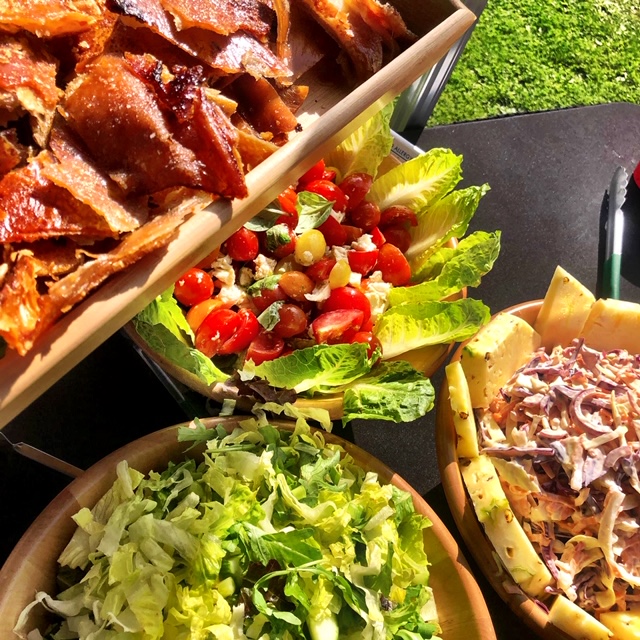 The clients worked closely with the Hog Roast Monikie team to come up with a delicious menu that was sure to delight all 28 guests' taste buds. Shelby and Harrison were thrilled when the whole catering package- including the use of the team's finest china crockery and cutlery- fell within their budget for the catering element of their wedding day.
The buffet menu the happy couple selected with the team included a variety of dishes on offer. Shelby and Harrison were keen that there was vegetarian alternatives available for their guests, so the team added specific dishes to meet this requirement.
Catering Manager Steve, from Hog Roast Monikie arrived at the Community Centre venue for the wedding reception. It had been very prettily decorated with bunting, photos of the couple and fairy lights. Steve had plenty of space to set up the catering equipment and serving table. He arrived several hours prior to the 6pm serving time, which gave him plenty of time to create the whole buffet from scratch.
The buffet was a treat for the taste buds and the eyes! There was two main meat options to pick from. There was a Spit Roasted Pig Served with Apple Sauce, homemade Stuffing and Crispy Crackling, alongside that there was a tasty Spit Roasted Spring Lamb Seasoned With Rosemary Served With Mint and a Mustard & Dill Sauce, as well as a tasty vegetarian alternative. There were also large platters of cous cous, Mediterranean pasta, coleslaw and Waldorf salad. Finally, finishing of the buffet was a big platter of Warm New Potatoes in Herb Butter and a large basket of soft gluten free rolls.
The buffet was ready for 6pm. After it had been eaten Catering Manager Steve quietly tidied away, taking all the rubbish generated through the catering away from the venue.
Shelby and Harrison were over the moon with the hard work by Steve and the Hog Roast Monikie team. Their day had been perfect.