Mid week we were out catering for a 21st birthday party with Hog Roast Laide. The booking was made well before Christmas and we were well prepared as usual. We were catering for one hundred guests and we didn't have to travel far as we were catering in our hometown. When we arrived we placed the pig on the machine and scored the skin and placed hand full's of rock salt into the skin this produces the best crackling and of course our state of the art machines help!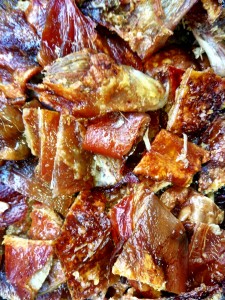 We made some stuffing and applesauce, as we tend to do whenever we cook pork we are perfectionists and with years of experience we have them down to a fine art. We also made some diced potatoes a simple dish but always a crowd pleaser we chop the potatoes into small squares and then drizzle them in oil and cover them in herbs and spices baked to perfection and a lovely little side. We then went on to make some salads and coleslaw and nice gravy made from the juices from the meat the guests arrived on time and we were ready to serve. We carved the pork and plated the meat up and cut the cracking into pieces the Hog Roast Laide food was greatly received and the birthday boy was very impressed as was all his friends! We had lots of guests coming over to us and saying that the food tasted amazing and time and time again asking us how we do it? But there is no secret it's our state of the art machines that produce the finest of meats over and over again.
We left some calling cards on the tables for the guests to take and almost immediately our phones were ringing and people booking orders we are only few weeks into the year and already we have had scores of bookings. We are reliable, produce the finest of foods time after time and have built up a good reputation over the years so we are not surprised we have had the feedback and good compliments. This year we feel will be our biggest and best and we are looking forward to the year ahead with Hog Roast Laide.