Hog Roast Glasgow were recently invited to cater for a local school's end of year Summer Fete, and the glorious weather helped make the day a great success. As we arrived at the school, the students love for understanding the world around them was clear to see. At first, they were keen to show us around their newly developed on-site farm, and we were lucky to be able to use some of their very own home grown produce to compliment the hog roast!
As the hog roast was prepared on the school field, the students were keen to see what was involved, and they watched with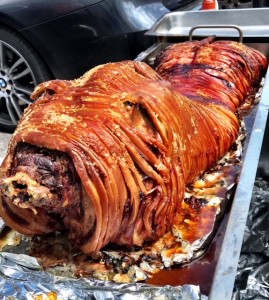 eager eyes as the roast was prepared for the day ahead. Throughout the morning there was plenty of questions about the Hogmaster hog roast machine that was used, the student's had questions about farming, and they had the opportunity to hear all about where exactly Hog Roast Glasgow sourced the local meat. Understanding the world around them is a topic the local school are clearly passionate about, and we hope that the relationship with the school can continue to grow.
Teachers, students, parents, and friends all seemed to enjoy the food and drink as they celebrated the end of a wonderful school year, with many of them coming back for seconds… and more! It was a delight for Hog Roast Glasgow to be involved in such a celebratory day, as approximately 100 people tucked in to the hog roast, sausages, and bacon sarnies!
The Headteacher got in touch with us after the event to let us know "the students loved having the opportunity to hear all about Hog Roast Glasgow, they were clearly fascinated with the machinery, and the team at Hog Roast Glasgow were all truly wonderful with them. They really took the time to answer all of the student's inquisitive questions, and got them involved whenever they could".
We hope to return to the school in the next academic year (to sample more their tasty home grown produce!), to share in a joint love of hog roasts and learning!