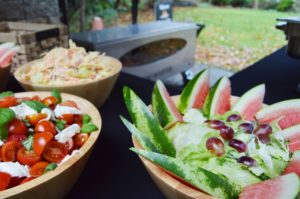 Cupar is an old market town that lies to the North of the Lomond Hills in between Dundee and Glenrothes. It still retains a lot of its original Medieval charm and its long history is evident in its streets and buildings, including the Hall of Tarvit, an Edwardian mansion that has been owned by the National Trust since 1949 and houses an impressive collection of furniture, art work and porcelain in various different styles.
Cupar also benefits from being very close to the Scottish Deer Centre, an expansive country park containing 14 species of deer from around the world, as well as wolves, otters, Scottish wildcats and a bird of prey centre. Cupar isn't just a great place for getting more acquainted with local wildlife, it is also an area rich in agricultural land and has been described as a 'natural larder', due to its abundance of superior local produce, a lot of which is sold at the town's regular Farmers Markets.
Hog Roast Catering In Cupar
Here at Hog Roast Cupar, we are committed to using only the finest local produce the area has to offer in every dish on our menus. From our ethically-reared pork to our organic vegetables and dairy products, you won't find a single inferior ingredient in our own very natural larder. Our hog roasts are the best in the area because we have such great pork as a starting point, which is then expertly prepared by our highly experienced catering team using the most advanced hog roasting machines in the business.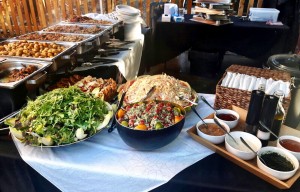 We don't just provide premium pork either, if you choose Hog Roast Cupar to cater for your event, you will be spoilt for choice with our varied and inventive menus, all prepared made from scratch at your venue by highly skilled hands, using the freshest, most vibrant ingredients available. Whether you need a large buffet for a local Farmers Market or you are looking for a high-quality catering option for your wedding reception in grounds of an elegant Edwardian mansion, the Hog Roast Cupar team can provide you with unforgettable locally-sourced food for any occasion and adapt our style of service seamlessly to suit the nature of your event.