Everyone is eager to get back to some form of normality. To do this, it is necessary for restrictions to be eased slowly and carefully, to minimise the risk of a bike spike in case numbers. However- good news! The end is in sight. With Scotland's tier system, it is easy to see what is allowed at each level, so we have created a handy guide of what Hog Roast Dornoch can offer for you in each tier.
Lockdown
During lockdown, the only service we can provide is our gourmet delivery service. We can deliver a variety of meals to your doorstep, in a contact free delivery. Unfortunately, no other events can take place.
Level 4
All lockdown services can continue. Life events, such as weddings and funerals are permitted to take place. Weddings have an upper limit of 15 guests, while wakes and funerals have an upper 20 guests. We are able to cater to these events. Six people from up to two households are also able to meet outside- we can provide our food delivery service for this.
Level 3
Almost exactly the same as level 4, except weddings can now have up to 20 guests.
Level 2
Same limits on life events as level 3, but more hospitality venues are now open. Accommodation is also open, including hotels and b&bs.
Level 1
Same limits on life events as level 2. Six people from up to two households can now meet indoors as well as outdoors.
Level 0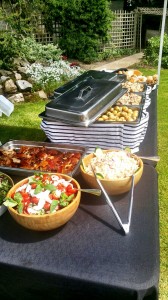 At level 0, there are no more Covid restrictions in place. This means events of any size can take place, and there are no limits to what can be hosted, so our Hog Roast Dornoch services are able to return as normal. We can cater to any event, of any size!
Are you looking to book our Hog Roast Dornoch services? Whether you want to use our gourmet meal delivery service, or book an event for the future, simply fill out the enquiry form on our website and we will be in touch.