Hog Roast Leith has had the pleasure of catering all kinds of parties and events over many years now, and we often get asked to cater corporate functions. Whether you need the food provided for a large event with hundreds of people or a small occasion with just a handful of guests, we have various menus for you to look through and even encourage you to create your own menu if preferred. Variety is the spice of life and here at Hog Roast Leith, it's an important part of our services, as we aim to cater for everyone's personal tastes and dietary needs, so that all your guests get to enjoy our culinary offerings.
For a recent corporate event in Edinburgh with 120 guests, we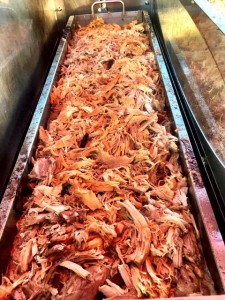 were asked to cater for Head Resourcing, which is a recruitment service business. Roya, a Business Support Consultant at Head Resourcing, said the venue would be The Grange Club, which is a well-known cricket and sports club in Stockbridge, specifically for cricket, hockey, squash and tennis, and the food would be served at the cricket club. The Grange Cricket Club itself is one of Scotland's leading cricket clubs and has picturesque grounds and a lovely old Pavilion.
Roya asked us for our popular Menu 1, which is pigs in buns, as well as options of Halal chicken, sausages and veggie skewers. For the pigs in buns, we roast a hog and once done, after a rest, we fill fresh floured bread rolls and wraps with slivers of meat and bits of crispy crackling, add a dollop each of our homemade apple sauce and sage and onion stuffing and then let guests choose the condiments to add on top before being devoured.
On the day of the event, Hog Roast Leith headed to the Grange Cricket Club to set up our gazebo, serving tables and equipment and to start preparing the hog, which is the first food we needed to cook, as it takes hours to sizzle away until perfectly browned and juicy and the skin full of crackling. By the time it had cooked beautifully, all the other fresh dishes were ready too, and we got ready to serve the hordes of hungry guests.