Hog Roast Perth love catering for many different types of events; mainly private parties, weddings, charity events and corporate events, and we were delighted to be asked recently by Gail to cater at the Aviva corporate team day for 80 guests at Perth Bowling Club.
Hog Roast Perth, has delivered corporate event hospitality alongside all the other types of events for many years and is renowned for very high-quality food and services and for all events, it is crucial to have a range of menus as clients' expectations are often quite different ranging from formal dining to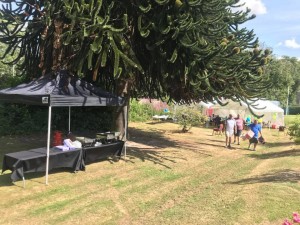 grass-roots paper plate events and from less than 100 participants to over 500.  Hog Roast Perth has five different menus to choose from to accommodate the venue location, style and budget for each organisation and client; we recognise the absolute requirement for professionalism and good impressions so that the client's staff and partners can be assured that they are in good hands and we consistently deliver top class results for all of our clients.  The client in this case asked us to provide a classic hog roast and Cajun chicken with salads, coleslaw, mac n cheese, baked potatoes and veggies skewers.  This was to be served outside as part of an informal lunch and whatever the menu you can always be guaranteed that the food that we serve will be delicious and mouth-watering!
We arrived well before we were due to serve to setup and liaised with Gail who indicated that the likely serving time would be around 5.30 and as our chef Steven was setting up and started roasting the hog, the delicious aromas caught the attention of some nearby guests who became immediately interested in what we would be serving.  The feedback from many of the diners was that they had not tasted a hog roast as delicious as this and commented at the taste of the crackling and meat that we served and the quality of our food.  Needless to say, we hope that Hog Roast Perth will be invited back for the next event!