The transition from primary to high school is a significant milestone for any child, and Diane wanted to make sure her daughter, Gemma, embraced this new chapter with excitement and joy. To settle Gemma's nerves and create lasting memories, Diane had decided to host a back-to-school party for her daughter. And to ensure that the occasion was nothing short of amazing, she enlisted the help of Hog Roast Brechin's legendary catering team.
Last week, before the schools went back, a small group of 20 guests gathered at Diane's home to celebrate Gemma's journey into first year. As the guests arrived, they were greeted with the mouth watering aroma of Hog Roast Brechin's Classic Hog Roast Menu, expertly prepared by our catering manager, Steve.
Given the intimate size of the gathering, Hog Roast Brechin opted for a succulent suckling pig, which promised an even more flavourful experience than our full-size hogs. This carefully roasted pig was the centrepiece of the feast, a sight that elicited gasps of excitement from Gemma and her friends. As the carving began, everyone eagerly awaited their turn to savour the tender and flavourful pork.
Alongside the delicious roast, Hog Roast Brechin served a selection of delectable sides, including freshly baked rolls, crispy roast potatoes, gourmet coleslaw, mixed fries and a variety of bright and colourful salads bursting with seasonal ingredients.
After indulging in the savoury delights, it was time to treat Gemma and her guests to something sweet. Hog Roast Brechin outdid ourselves with two mouth watering desserts. Knowing that cheesecake was Gemma's absolute favourite, Steve served a homemade cheesecake that left everyone swooning with delight. The rich and creamy texture, paired with a perfectly balanced sweet-tart flavour, made it an instant hit.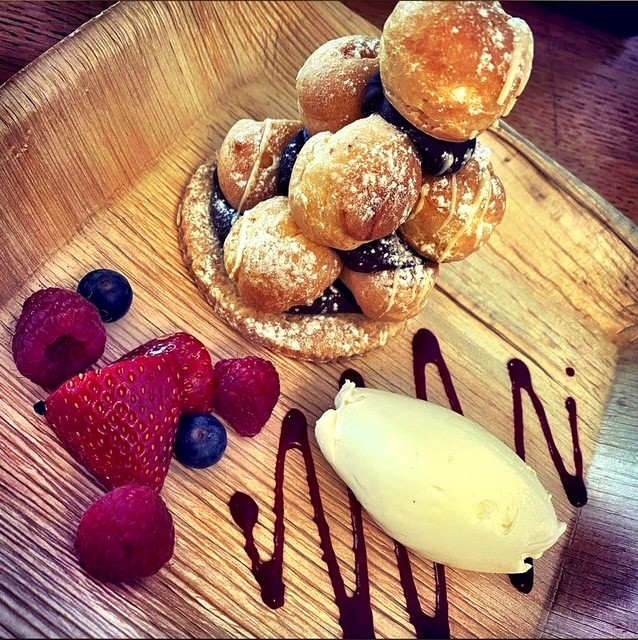 But the indulgence didn't stop there! The catering team also presented chocolate-smothered profiteroles, generously filled with cream and adorned with an assortment of fresh berries. It was a dessert dream come true, and the smiles on the guests' faces said it all.
As the afternoon drew to a close, Gemma's nerves had transformed into excitement, thanks to the love and support of her friends and family. Diane's thoughtful gesture, coupled with the unforgettable catering experience from Hog Roast Brechin, made the back-to-school party a resounding success.