For Lee's 30th birthday party, he wanted a traditional hog roast in Killiecrankie, at home with his friends and family. Though quite a small back garden in this small village, there was still enough room for our gazebo, which inside featured our smart serving table and the hog roast machine itself. We recommended a smaller pig for the intimate affair, so I turned up yesterday afternoon with a lovely, locally-sourced hog that would not only provide seconds or more but there would also be plenty of leftovers that could be chilled or frozen. As Lee works for a homeless charity, he said any leftovers would go to good use there.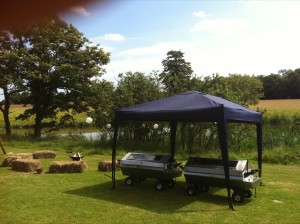 As it was a small party, I would be preparing, cooking and serving by myself. It was an early evening service, so under the gazebo in the warm sun, I got to work arranging the hog roast in Killiecrankie. As Lee was genuinely interested in this way of cooking and asked lots of questions, I showed him how to score the skin of a pig and then how to prep it with water and salt. He was surprised at how easy it was and after I explained that we rent out and even sell our own machines, he then booked a visit to our factory and showroom to have a look around next week.
Once the pig was slowly roasting, all I had to do was keep an eye on it and chat to the guests who started to arrive. Then after a couple of hours, it was time to start slicing the floury bread rolls, dishing out our freshly made apple sauce and stuffing and arranging the condiments and napkins on the crisp, white tablecloth on our serving table. The pig by now had lovely and succulent meat on the inside and its outside was a wonderful golden brown colour, with the salty crackling glistening under the sun.
As the guests raised a toast to Lee on his special day, I cut off the crackling and sliced into the pork and these pieces were all stuffed into the bread rolls together with the stuffing and apple sauce. Then the whole garden was silent except for the sounds of everyone enjoying our delicious fodder of a hog roast in Killiecrankie.