Why not go the whole hog this Christmas and enjoy our Hog Roast Livingston festive menu at your party or event. You and your guests could all be enjoying being served turkey and all the trimmings this month, after it's been cooked right in front of you and then you can finish your meal off with our mince pies and mulled wine. We only use high-quality, local birds and you can really taste the difference, and we cook until the outside is crispy and the insides are soft and tender. We also cook you freshly prepared seasonal vegetables and roast potatoes as part of this menu, and add cranberry sauce, our homemade sage and onion stuffing, and our homemade onion gravy, so you can be sure of a Christmas party to remember.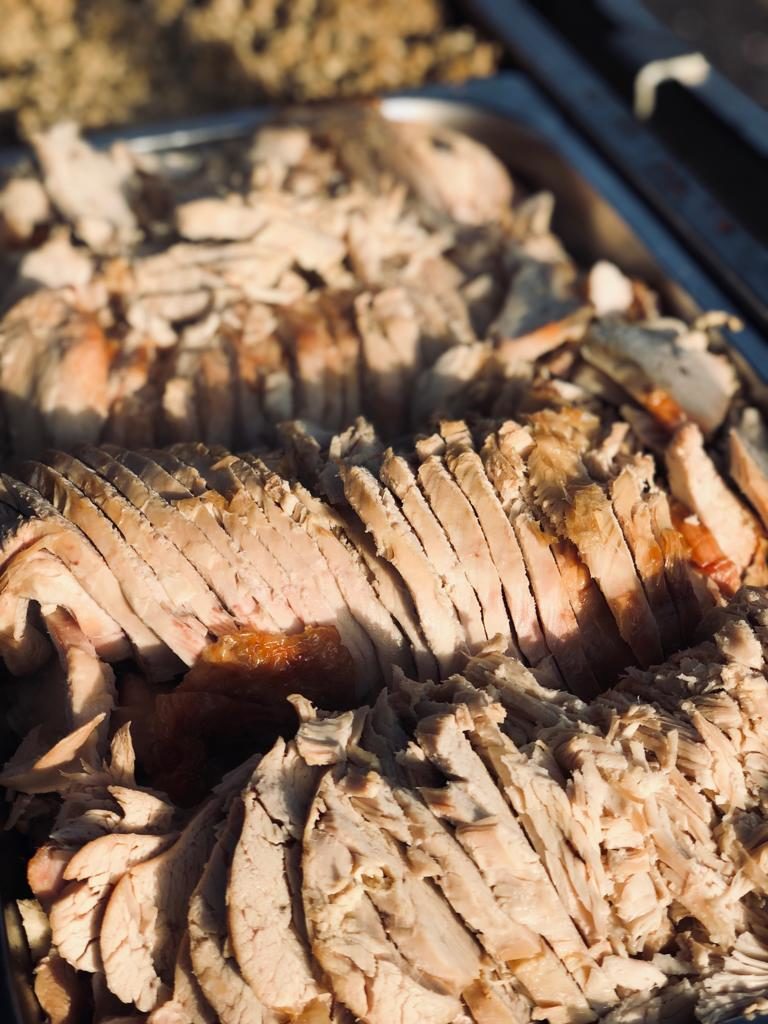 When Dean called Hog Roast Livingston to book our services for his 35th birthday party, he decided on our Christmas menu with it being the perfect time of year to enjoy it with friends and family. He asked us to cook at his home, in the back yard, though he wanted the food serving inside, in the warmth. We're very flexible to your wants and needs, with our service as well as our menus, so this would not be an issue at all.
On the day of the birthday party, Dean welcomed us to his home and we set up our equipment outside in the chilly air. Once we had erected the gazebo (which would help protect us from the elements) and our serving station, we turned on the hog roast machine and the whole turkeys were soon roasting away. Our machines are very adaptable and can be used to cook hogs, other animals and birds like these, as well as to cook barbecues and even pizzas, plus the inside is great for cooking the potatoes and vegetables.
Sometime later and Hog Roast Livingston had everything roasting away and started on all the lovely trimmings and getting the condiments into dishes. Dean and his guests clearly loved their Christmas meal, as the turkeys were all stripped clean and all of the plates came back empty!