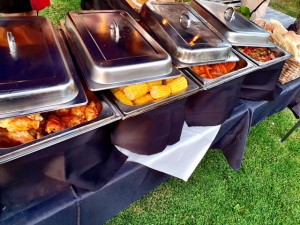 Stow is a pretty village nestling in the Scottish Borders and as a location for us as premium hog roast caterers, it's certainly hard to beat. Fortunately we've been able to build up a great relationship with our customers in and around Stow and so it's a real pleasure to be part of so many celebrations here. Of course we wouldn't have been able to build up that reputation without a winning product and what we're able to offer is a great combination of prime ingredients, expert staff and fantastic service, all of which keep people coming back for more. When it comes to top notch hog roast Stow folk know that we're the people to go to. Of course, being able to work in such a lovely place certainly helps. Stow itself has less than a thousand inhabitants but that's not counting the steady stream of visitors through the area.
The number of holiday cottages is testament to the fact that Stow is a real draw to tourists, offering as it does, a handy base from which to explore the rugged countryside of the Scottish Borders. For us, tourists offer the possibility of sharing our hog roast experience with the widest possible audience. The area lends itself well to group visits (whether they be looking to stay in some of the impressive converted barns, farmhouses, hotels or indeed, campsites around Stow) and wherever they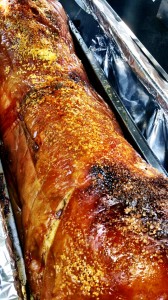 choose to stay we have all the necessary ingredients for a truly memorable party to make that visit extra special. What better way to round off a weekend spent with other club members, family friends or colleagues than with one of our expertly prepared hog roasts, cooked and served up by our staff so that you and your guests can relax in style and let us entertain you. It's not only the tourists who take full advantage of the area around Stow itself. After all, we're surrounded by countryside which just so happens also to be home to some really great food producers. What we use are the best quality local meats and other ingredients, produced by some fine local farmers. We then take a slice of history in the form of the ancient method of spit roasting and bring that method bang up to date with modern machinery.
It's heartening to know that people have been living, working and cooking in the Stow area since at least Saxon times and we're proud to take our very humble place within that extremely long train of tradition. Little wonder then that we're renowned for producing the ultimate hog roast Stow experience.
The Best Hog Roasts In Stow
Our hog roast hire Stow service is something of which we're especially proud. The idea behind it is pretty simple really and is borne out of the fact that many of our customers here in Stow are increasingly drawn to the option of having a go at cooking hog roast for themselves. Very often our customers for this service are individuals looking to throw a party and to cooking for and serving their guests themselves. The idea may appeal but the customer may not know where to start. Fortunately for our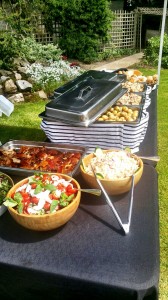 customers here in Stow, we can give them everything they need. We supply top of the range spit roasting equipment along with a little bit of know how to set our customers well on the road to getting on with it themselves. We can also supply the meats ready and prepared to go straight onto the spit and indeed why would anyone not want to take advantage of our top local produce?
Alternatively if our customer has sourced his own ingredients then that's fine as well. Our packages are not only extremely competitive, they're also flexible. In fact we also do some very attractive deals for customers looking to arrange hire for longer periods. We have some great pubs in the area and there's no better way of getting the punters in than having a spit sizzling away in the beer garden. We find that for hog roast hire Stow is a great place to do business. Sometimes though, our customers are organising the type of event where hire on its own isn't enough and what they need is the type of service which really makes their guests feel special. Whether it's a lavish wedding or a top of the range corporate event, our customer advisors, chefs and professional waiting staff all combine to make that day extra special. In fact whatever event the people here is Stow are looking to celebrate, we're here to make it memorable.