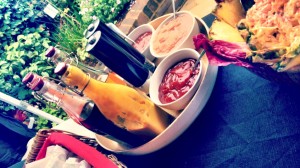 Although hog roast Hamilton is not a very large area to supply catering to, it is very busy and continues to grow in popularity. We travel to all areas of Hamilton, including Hillhouse, Burnbank, Barncluith, Little Earnock and Whitehill. We cater for a wide range of events from private parties and weddings, to corporate and community events – we are always eager to cater at new types of events.
The Best Hog Roasts In Hamilton
We cater a large number of private parties in and around hog roast Hamilton. Some of these are held at clients homes whereas some are held at hired venues. One example of the style of private parties that we can cater for was in Burnbank, where we did a pig roast for a young couple as part of their garden party. At this event, we supplied a whole roasted pig with crackling and sauces; three freshly prepared salads – coleslaw, mixed leaf salad and tomato & basil pasta; warm new potatoes in herb butter; and homemade meringues with fresh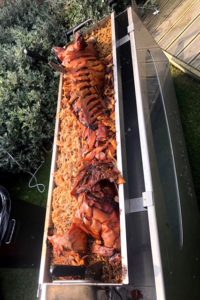 cream, ripe berries and fruit coulis for dessert. This menu was to feed 100 people so required two members of staff to prepare and serve the food. The weather was sunny and warm so there were no problems with serving outside in the garden and everyone had a good day.
In Barncluith we did catering for an informal wedding. The couple got married in the marquee and then had their reception there too. It was a small wedding of 60 people where we provided a champagne and canapé service before a main meal of Hog Roast Pig, with salads and potatoes. As a dessert, we dressed the wedding cake with fresh berries and cream on individual plates. This was served with teas and coffees.
Hog Roasting in and around the Hamilton area is becoming more popular and we are becoming busier and busier.