The Best Hog Roasts in Dumfries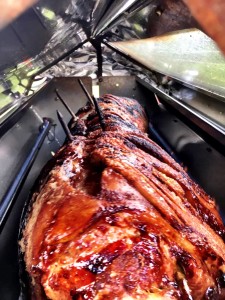 As the area that we cover is often out in the countryside, we do hog roasts in many places that are not necessarily near any towns or villages. There are also three large hotels that specialise in weddings who hire us regularly to do hog roasts as part of wedding meals or as an evening buffet with soft bread rolls, apple sauce, sweet chilli sauce and freshly made salads. At hog roast Comlongon Castle in Clarencefield we do hog roasts as part of a meal throughout the year and do evening buffets when the weather is suitable to serve outside; at Hetland Hall Hotel at Carrutherstown we usually take our pig roast along as part of the evening buffet or main meal and the hotel provides all of the accompaniments; and at Friars Carse Hotel near Auldgirth we simply cook, cut and carve the hogroast for the hotel to serve as part of the meal.
One of the most complex wedding menus that we have done in the past few months was in a massive marquee at a farm near Thornhill. This menu consisted of canapés, the main meal (including starters and desserts), teas and coffees, wedding cake and evening buffet. This required a large number of staff to waitress and to do preparation in the kitchen. When the guests arrived at the reception from the church service two of our staff greeted them with a glass of champagne each and shortly after this we began to serve a selection of canapés – haggis bouchees, wild mushroom bouchees, pate en croute, haloumi kebabs, smoked salmon on brown bread and handmade sausages with a mustard dip. We make all of the canapés ourselves when we arrive on site so that they are fresh when the guests arrive. After about an hour whilst serving canapés, photos were taken and the guests mingled with one another. Everyone was invited to take their seat and once settled, we began to serve starters to the table – there was a choice of homemade lentil soup or a prawn and smoked salmon salad. This was followed by a main meal of Hog Roasted Pig with crispy crackling and apple sauce; Roast Sirloin of Beef with Yorkshire puddings and red wine gravy; roast potatoes with garlic and thyme; and seasonal vegetables of cauliflower cheese, sugar snap peas and roasted vegetables. As a dessert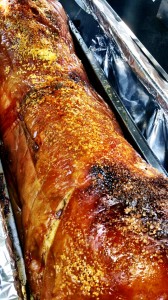 we served homemade meringues with fresh cream, ripe berries and a coulis. This was then followed by wedding cake that was dressed on plates and was served with teas and coffees. For the evening buffet, the meats that were not used from the main meal were served cold in fresh rolls with a selection of sauces and cheese, crackers and chutneys. Although this was a long, busy day it was made really enjoyable by the guests at the wedding as they were all very friendly. It also makes a huge difference to have experienced staff as it means that the function runs as smoothly as possible, both for us and for the client.
Hog Roasts in Dumfries and the surrounding areas are done at a number of different places. Although Dumfries itself is quite a large town, it is mainly surrounded by expansive rural areas which are dominated by farming. It is for this reason that doing functions in the Dumfries area can vary from elaborate occasions in the middle of the town to birthday parties and weddings in marquees at a farm to private parties at customers homes. Being surrounded by so much countryside means that we often have larger distances to travel – dotting around the country to places such as Dalbeattie, Castle Douglas, Moffat, Lockerbie and the famous Gretna Green, as well as many unknown places in between.
The rural setting of Dumfries often means that we are lucky enough to get to cater for large weddings in the most picturesque of places as often the meal and evening reception takes place in a marquee or barn at a local farm. As well as a large number of private parties and weddings, we also cater for many public and community events.
Dumfries and the surrounding area have a number of events, some of which happen annually and some that are for special occasions, which we have catered for. As the home of the Scottish bard, Robert Burns, there were a number of events held locally for the 'Home Coming' last year, some of which we catered at. We also provided catering for a Film Festival that was held by Dumfries and Galloway Council. Other events that we Hog Roast at annually are things like the Dumfries Agricultural Show where we provide corporate hospitality for local companies. Another annual event is the Spring Fling which is an Art Festival that takes place in and around Dumfries and we have done a number of Hog Roasts at this including their ceilidh. Guid Nychburris is an historical celebration of past and present town traditions and is held in the town every year and draws a large crowd from surrounding areas. We have been lucky enough to take our Hog Roasts along to this even for the past few years.
Leaders in our field
We have a great team of staff who can be called upon when we need them for the bigger functions such as weddings and public events. The staff all work really well together which is reflected in our work – where we are friendly and helpful yet professional. This has been commented upon at most functions. It is the two full-time staff members who take enquiries; place and collect orders and organise staff and equipment.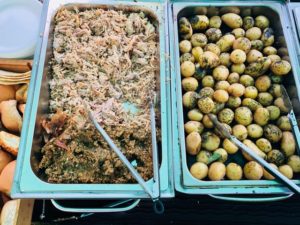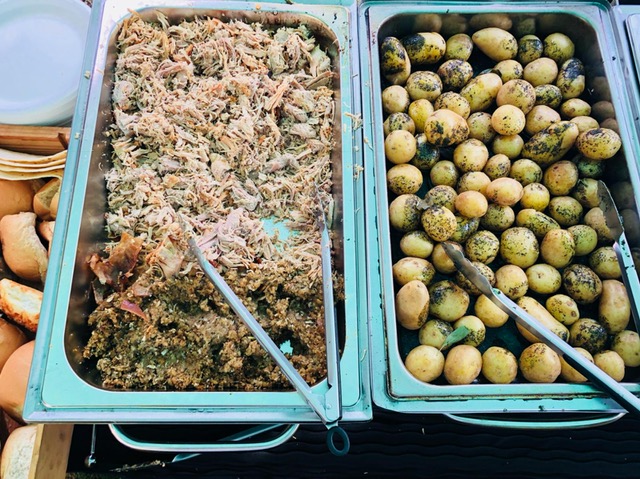 Hog Roasting in this area is enjoyable because we get to travel and see a lot of the countryside. And even though the area that we cover is quite big, there is always the chance that we will know some people who are guests at the function. Even if we do not, we are always greeted with a warm welcome because people know that we are a local company and are eager to see us doing well. It is nice to have so much support in the local area for what we are doing. As well as a growing number of weddings in the hog roast Dumfries area, we are continuing to receive a large amount of enquiries and bookings for private parties and community events.
In Dumfries we cover a large area doing hog roast Dumfries catering. We travel the entire area of Dumfries and Galloway as it is mainly rural. Some of the towns that we visit outside of Dumfries regularly include Castle Douglas, Lockerbie and Stranraer.