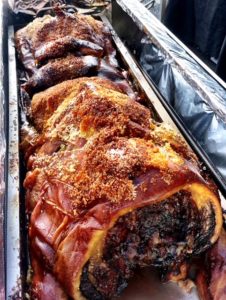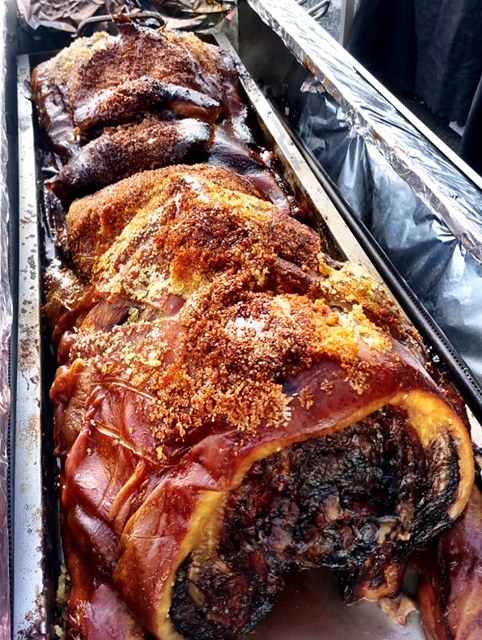 From our experience, to be able to offer a prime hog roast experience here in Dingwall, is a real pleasure. Part of this stems from the fact that Dingwall and it's surrounding area is such a stunning place but mostly it's because of the great relationship we have with our customers here. This relationship is based very much on trust. Our customers know that they can rely on us to deliver the goods; namely a wonderful hog roast feast for any occasion. Little wonder then that when it comes to hog roast Dingwall folk return to us time and again.
Dingwall is a real jewel here in the Highlands. It's situated snugly at the head of the Cromarty Firth and not only is it an attractive location in itself, it also makes a great base for exploring the Highlands and the many attractions nearby. We're pleased to say that this leads to a diverse and interesting mix of visitors including groups of walkers and cyclists, golfers, whiskey  onnoisseurs and all sorts of tourists from home and abroad. For us, it's a case of the more the merrier and it means that there's always plenty of people around to sample the delights of our hog roast. What better way for a walker's association to round off a day's trekking in the Highlands than with a carefully prepared hog roast served by our dedicated staff. After a day filled with activity it's time to relax and celebrate and that's really where we come into our own.
There's also a strong sense of history around Dingwall – a town which was first granted royal charter in 1226, which has been settled since at least Norse times and indeed which was the birthplace of Macbeth. The method of spit roasting meat which we use would in essence be recognisable to the people who lived, worked and ate here thousands of years ago. We've brought it right up to date with top notch 21st Century equipment to really bring out the best from the fine locally sourced ingredients we use. Little wonder that we're known as the go to guys for the ultimate hog roast Dingwall experience.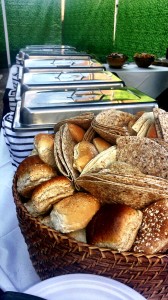 In fact our hog roast has built up such a reputation that many of our customers here in Dingwall are keen to have a go at spit roasting themselves. As a result, our hog roast hire Dingwall service has become really popular. All sorts of people are wanting to get involved in this; from individuals looking to put on something of a spectacle by presenting a hog roast feast to their friends which they can proudly say they've prepared themselves, through to corporate customers looking to throw a party for their employees. Our hire rates are extremely competitive and we also do special deals for those of our customers looking to arrange hire for extended periods which proves specially popular with pubs and similar businesses in the Dingwall area looking to put on a special treat for their patrons. Little wonder then that when it comes to hog roast hire Dingwall folk regard us as the obvious choice.
The Best Hog Roasts In Dingwall
For most of our customers here in Dingwall though, what they are looking for is not only great food but also exceptional service and this is where the catering side of our business really comes into its own. There are plenty of top quality country hotels and other venues in the area for that special day whether it be a wedding, corporate event or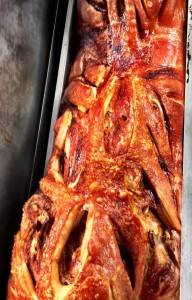 other formal party. Our customers know that wherever they choose, not only will the food be truly memorable, their guests will be properly looked after too.
Perhaps the type of event where our skills are really put on show are the many weddings we cater for. Couples around Dingwall are very lucky to have so many potential wedding venues to choose from – not to mention the Highland scenery which makes a stunning backdrop to any wedding album. Whether they eventually go for a country hotel, marquee, back garden or campsite, they can rely on us to provide everything to make their wedding a day to remember. We have a range of menu options available and we work closely with the couple to create the feast they want – whether it be for the wedding breakfast or the evening buffet or both. No wedding is too big or too small for us to bring our special brand of magic in the form of our irresistible hog roast. Whatever the occasion, we offer something for everyone in Dingwall.