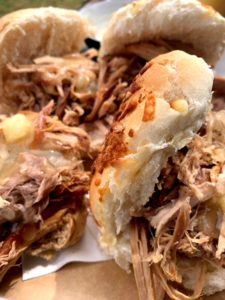 In Aberdeenshire, you can't move for picturesque places, and the village of Braemar certainly fits that description. With a mountain backdrop, and surrounded by rolling countryside and deep forests, it takes your breath away on a daily basis. And of course, we are home to the Braemar Gathering – often topping the list of best Highland Games in Scotland and a favourite of the Royal Family. Braemar truly is a feast for the eyes. But if you're after a feast for the palate, then Hog Roast Braemar are more than happy to oblige.
From succulent pork to juicy beef, fragrant lamb to tasty chicken, our team are experts at spit-roasting any meat. We cater our menu to you. We also only work with the best butchers to bring you top-quality, locally, sourced meats. And we take the same care when sourcing our other ingredients too. When you choose Hog Roast Braemar, you also get the tastiest salad, vegetables, and sauces on the side.
A Hog Roast In Braemar Is A Feast For The Eyes And Palate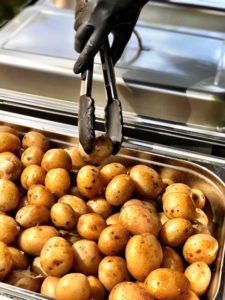 We cater to all events, no matter their size. The Hog Roast Braemar team can handle 50 guests as effortlessly as we can 500. We will take care of everything, from carving to cleaning.  Our chefs are professionally trained hog roasters, and our servers are the best in the business.
Don't let rain stop play. We can dish out a dinner indoors or outdoors. We will work with you to create the perfect party. And one way you are guaranteed to impress your guests is with a hog roast cooked in front of them. They'll be surrounded by the sights and smells of slow-roasted meat – if they weren't hungry before they will be now.
We offer plenty of choice across everything from meats to sides, canapes to desserts. If you can't quite find the right option for you, we will work together to craft a menu that does. And that includes cooking vegetarian meals. After all, the customer is always right. If you're worried about budget, we can cater to that too. We want to take the stress out of your party planning.
A mouthwatering hog roast can elevate any event. So don't delay, get yours booked in today!