Hog Roast Portree's Southern Slow Roast is a spectacular menu filled with choice, flavour, and succulent meats. Anyone lucky enough to have tried this menu will tell you just how tasty the menu is. The exciting news is that during the covid pandemic, Hog Roast Portree has revamped this menu leading to even more flavour and options.
First, two new side dishes have been added onto the menu. One being halloumi skewers, a bamboo skewer filled with delicious and fresh Mediterranean vegetables and halloumi chunks dusted with Cajun seasoning. A medley of colour and textures, delicious! The other is potato salad, baby new potatoes sprinkled with fresh chives and spring onions covered in mayonnaise, nice and fresh.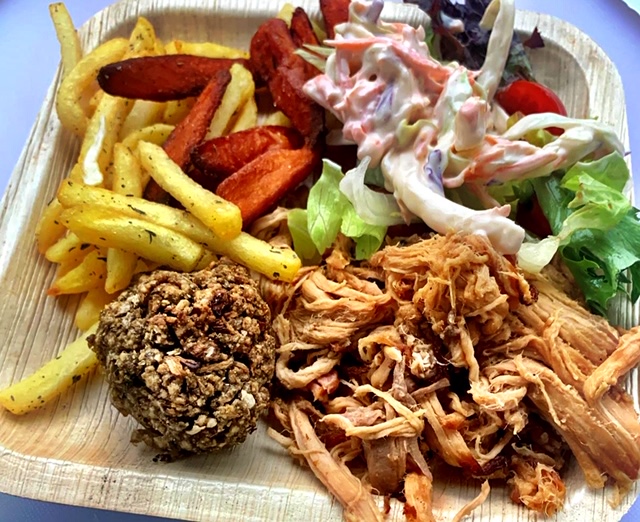 Now for the more exciting part… the meat. Hog Roast Portree has changed the source of its meat to a new local butcher. The meat is now much better quality because of how the animals have been reared. The marinates for the different meats have also been revamped creating a divine flavouring with an initial dry rub before adding a sauce in the later stage of cooking. For example, the BBQ rub for the pulled pork is massaged onto the raw meat before being cooked on low heat for 24 hours, a few hours before it is finished, a bourbon BBQ sauce is added helping the meat to keep in the moisture, making is flavourful and succulent. The ribs are particularly meaty with this new butcher and marinated in a Chinese spice which is sweet and delicious.
The Mac and cheese, everyone's favourite comfort food giving people a warm hug inside has a new creamy recipe making it even more divine and indulgent than before.
The menu still has all its classic options giving you and your guests a phenomenal experience. It does not matter what you choose, you are in for a treat with how moist and flavoursome the meats are and how delicious the accompanying side dishes are. With Hog Roast Portree you are guaranteed food made with passion with friendly and professional service.