It's not every day that Scotland reaches temperatures of nearly 30 degrees celsius. But after weeks of flooding and monsoon-style rain, the skies cleared up to reveal nothing but sunshine for a solid week! For Hog Roast Coylton, this exceptional change in the forecast was a much welcome treat, and it certainly made hosting outdoor events a whole lot easier for our customers and clients too.
So, as you can probably imagine, we had lots of celebrations, functions and private parties to cater for in this short window of time, but one that really sticks out in our mind was the day we handled Marie and Jason's wedding reception.
When the happy couple first started planning for their wedding earlier this year, they had thought August would have been the perfect time to get hitched, but their nerves began to get the better of them when the heavy rainfall and high winds picked up just weeks before their big day. When the weather then changed, virtually overnight, it was like a huge weight had been lifted off their shoulders and their fears of having to move their celebrations indoors melted away instantly.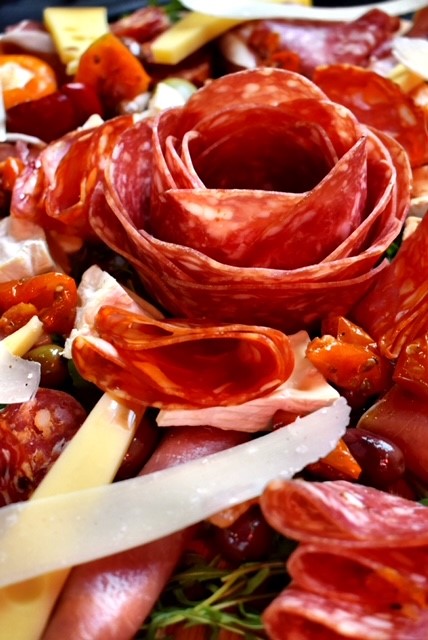 The Hog Roast Coylton team were also grateful for the warm spell that gave Barcelona a run for its money, as the weather has a huge impact on our cooking time. In this instance, we were able to shave precious hours off our time spent roasting the full-size pig, giving our crew even more time to focus on the presentation of the antipasti platters and side dishes, as well as setting up the dining furniture for the guests.
The sunshine and beautiful ceremony had put the entire wedding party in a fantastic mood, which was only made better by the gorgeous spread that Hog Roast Coylton had spent the best part of that morning arranging. From the beautifully cooked, fork-tender spit-roast with crackling, stuffing and applesauce, to the vibrant, fresh-tasting salad and potato options and Italian antipasti platters that had been placed in the centre of each table, Steve and the team had delivered the ultimate dining experience, which was rounded off perfectly with a choice of refreshing summer pudding or tarte au citron with a fresh fruit coulis.