Throwing axes for sport is something that dates back several centuries. North American frontiersmen tossed hatchets for recreational purposes, and records have shown that even ancient Celtic tribes took part in this global pastime. But while the enthusiasm for axe-throwing certainly died down for a while, the game has made a ground-breaking return recently and is now quickly gaining popularity across the UK.
These days, no matter where you turn, you're likely to see people eagerly lapping up the chance to throw sharp objects at wooden targets. And so, when we received an invitation to experience the excitement up-close and personal after Stu announced the opening of his all-new, axe-throwing bar here in Scotland, the Hog Roast Lochgelly team was in great order!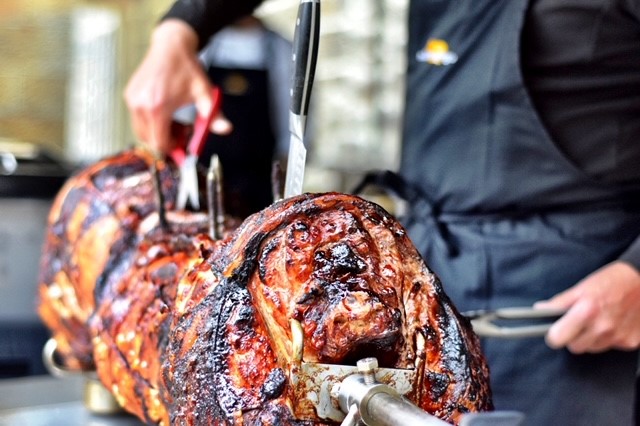 Stu, who had been hoping to make a good first impression on his customers, had asked our catering manager, Steve, for his advice on which of our menus would best fit the event. And after walking him through our options, the client decided to keep things simple with our Classic Hog Roast Menu, which is always extremely popular with both our customers and their guests, so it seemed perfect for Stu's all-important evening.
On opening night, Steve, along with the rest of the Hog Roast Lochgelly crew, arrived at Stu's establishment, where they were given a quick tour of the trendy bar-front before being led through to the kitchen area, where they immediately made a start on roasting the pig.
As the real flames licked at the rotating hog, turning the skin crispy and a beautiful shade of gold, the team mixed up our classic homemade sage and onion stuffing and flavoursome applesauce, which was paired with 'slaw, seasonal mixed salad, herb dressed potatoes and gluten-free rolls. Instead of pork, vegans were also given the option of BBQ pulled jackfruit, served in a bun with hickory sauce.
By the time the guests arrived to test out their axe-tossing skills, Hog Roast Lochgelly had finished their preparations – all there was left to do was dish up the glorious flavour combo using our eco-friendly plates!
Much to our delight, everyone who arrived to help Stu celebrate his big opening night had a wonderful time. The axe throwing proved hugely popular, the drinks were flowing, and the food was a real treat, too!