Families have a unique relationship, particularly when they are dispersed around the country and even the world. They may not be able to see each other often but when they do – it is like they were never apart and what a delight if was to be asked to cater for a wonderful family get together with a hog roast Beauly last month. The Donovan family is a large family of all ages and live everywhere from Scotland, Northern Ireland and even New Zealand, so logistically getting together can be difficult. However, after 5 years since their last meet up, Tom and Lucy who live in Beauly, decided to host another get together and reunion. With family coming from all over the UK and much further afield, it was truly a special event to be asked to attend.
The venue for the gathering was a picturesque little cafe which lends itself as a party and function venue when it is closed for business at the weekends. With a generous sized outdoor terrace to the back of the venue, it was a perfect place for us to set up our equipment and work our magic for this hog roast Beauly. The hosts had asked us to arrive late morning, with guests arriving at midday, allowing them a couple of hours of enjoying being back in each others company and not to mention meeting the newest members of the family (beautiful twins Jack and Sara who had come all the way from New Zealand) before we served up a culinary delight for them to enjoy over champagne and plenty of story sharing.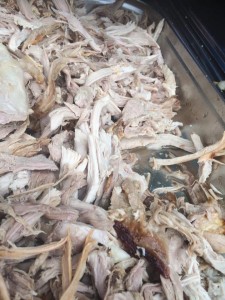 On the day we were serving the Donovan family our delicious classic spit roasted pig menu; a whole free range pig, slowly roasted over flickering flames for several hours to achieve perfect tender, melt in the mouth meat. After carefully carving such delicate meat we served it with our fresh floured bread rolls, homemade sage and onion stuffing and my personal favourite every time – punchy, sweet apple sauce, prepared on site for the ultimate fresh and homemade taste. A long line of hungry guests quickly formed as soon as it was announced the food was ready – I suppose catching up with relatives works up a large appetite! Guests piled their bread rolls high with meat and all the toppings they could manage. A truly brilliant day, and lovely to see so many happy faces and satisfied tummies from our hog roast Beauly, as a fantastic family reunited!