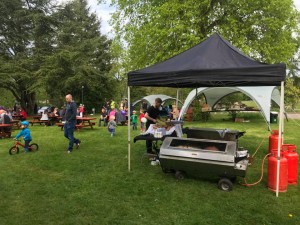 Hog Roast Bieldside loves to provide fantastic, high-quality catering for all kinds of parties and events, both local and further afield, but it's especially heartwarming for our team to be asked to cater a charity event. Just recently, we had the great pleasure of cooking our tasty pigs in buns for 150 guests, as well as providing food for 25 vegetarian guests, for the homecoming event of the Coast to Coast 10 riders, with the venue being Camphill School Aberdeen, which is located in Bieldside itself.
Coast to Coast 10 is a 3-day charity cycle ride between Kyle and Aberdeen, by current and former staff from Shell, BP, and ConocoPhillips, in order to raise funds for 5 Scottish charities, including Camphill School Aberdeen. The school is a charity that supports children and young people who have additional support needs, including Down's syndrome, autism, and learning disabilities. 95 children and young people, mostly from Aberdeen, are currently supported, either on a residential or day placement basis, and have access to educational services, craft and textile workshops, and therapies such as horse riding, art, and speech, as well as sport, culture and social activities. The funds raised by Coast to Coast 10 will help Camphill School Aberdeen to create a life skills workshop with a fully-equipped kitchen, to enhance a bicycle workshop and to buy special bikes for the students.
On the day of the event, our team at Hog Roast Bieldside arrived at the venue hours before a teatime service in order to cook a hog roast from scratch. After scoring the meat all over, adding water and covering it with plenty of salt to get that crunchy crackling, we set the hog roast machine going and just kept an eye on the pig as it cooked away. Hours later and the hog was resting, and we were busy slicing the bread rolls, dishing up the apple sauce, sage and onion stuffing, and condiments and getting ready to serve both the meat and veggie option to the guests at 5pm. Plenty of funds were raised for this great charity and Hog Roast Bieldside was delighted to ensure all the guests were well-fed and happy with our delicious offerings.