This Friday was a very special event for Hog Roast Dunblane. We had been asked to come and cater at a local B&Bs relaunch evening. Having recently had all of their rooms redecorated , owners Kai and Molly, were hosting an evening of food and drinks to invite people to come and view their new rooms.
We were more than happy to help out another local business and set about planning the menu for the evening. Kai had given us a serve time of 6'o'clock but explained that ideally the food would be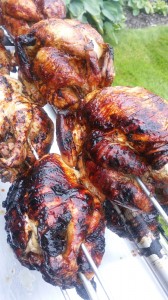 available throughout the night in a buffet form for any guests filtering in or out. We agreed that the best menu would be a classic menu one with all the trimmings! That's a traditionally slow roasted hog, scored with lots of salt rubbed in to create that dreamy crackling. This would be served in freshly baked bread rolls, with a couple of gluten free rolls for any guests with allergies and all topped off with our Hog Roast Dunblane chefs secret recipe apple sauce! Kai also asked us to cook a few chickens on the spit roasting machine too to add a bit of variety and ensure there was something for all the guests tastes. Of course, we also prepared our signature halloumi and roasted vegetable skewers for the vegetarians in attendance. With everything prepared it was set to be a lovely night!
When we arrived on site, the weather had predictably turned and Molly was worried we would not be able to cater as we had been planning to cater form the beautiful gardens of the house. However, Hog Roast Dunblane knows to come prepared and we had luckily brought along our trusty gazebo for such an occasion! With the crisis averted we were able to start cooking and preparing a feast for the guest's arrival…